Photo Courtesy of Secreto Southern Kitchen & Bar
Casa Nuova Italian Restaurant
With a heartwarming story and an emphasis on serving the Alpharetta community, Casa Nuova Italian Restaurant is the best spot in town for impeccable food and even better service. Owners Antonio and Maria Fundora are well-loved community members who give back to Alpharetta every chance they get. Their generous outreach programs support local organizations like The American Federation for Suicide Prevention, Dining Out For Life, An Evening of Hope, and all of the local elementary and high schools in Milton and Alpharetta.
And there's a reason people keep coming back to Casa Nuova — their food is incredible with many of the ingredients coming directly from the owner's farm. A traditional farm-to-table restaurant offering a mouthwatering Italian menu, Casa Nuova offers freshly-made pasta, unique entrees, and homemade gelato for dessert. A visit to the award-winning Casa Nuova is an experience that every tourist and resident must experience at least once — with a promise to return for more.
CRÚ Wine Bar
For Napa-style food and wine, visit CRÚ Food & Wine Bar, located in the 86-acre resort community in the heart of Alpharetta, Avalon. Offering over 300 bottles of wine to choose from, CRÚ embraces a casual and fun atmosphere with a no "nose in the air" attitude about wine. Take in the sultry aromas and taste new concoctions from around the globe — don't forget to indulge in their delicious cuisine that's been expertly paired with exquisite wines. CRÚ features a Wine Society membership offering discounts, free appetizers, and invitations to special events. The wine bar also hosts Happy Hours, Pizza Mondays, Swirl Sundays, and Champagne Socials.
Nahm Thai Cuisine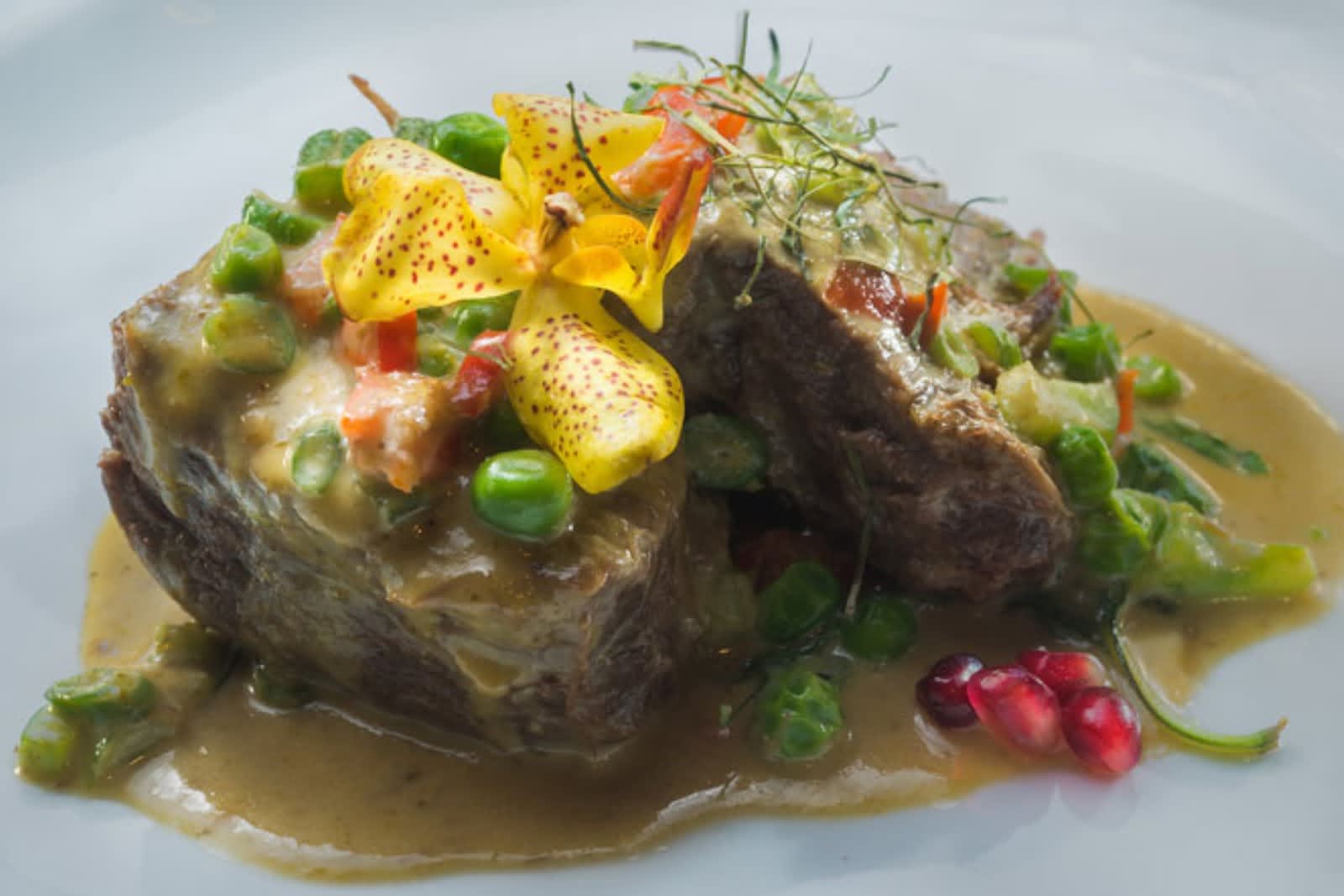 Photo courtesy of Nahm Thai Cuisine
A beautiful blend of tradition and innovation, Nahm Thai Cuisine embodies the essence of Thai culture. Each dish, crafted by owner and executive chef Nahm Thongyoung, is a combination of art, elegance, and respect — pillars of traditional Thai culture. Located in a bright and elegant dining space, Nahm Thai Cuisine offers the most beautiful dishes, almost too beautiful to eat, and an extensive lunch and dinner menu. Popular menu items include green curry lamb with green beans and fresh basil and a heavenly, fresh coconut cake for dessert. Perfect for date nights, Nahm Thai Cuisine offers an elegant dining experience and exceptional service.
Oak Steakhouse
Oak Steakhouse offers contemporary American cuisine and steakhouse classics with Georgian ingredients from local farmers in a modern and refined environment. Featured in dozens of Atlanta magazines as "the best of" in food and dining categories, Oak Steakhouse artfully blends the classics with contemporary cuisine and offers mouthwatering options for brunch, lunch, and dinner. Choose a wine from their extensive list and pair your selection with a steakhouse special or a certified Angus Beef Signature Steak. Oak Steakhouse is available to rent for private events in their gorgeous indoor dining room or heated outdoor patio.
Pampas Steakhouse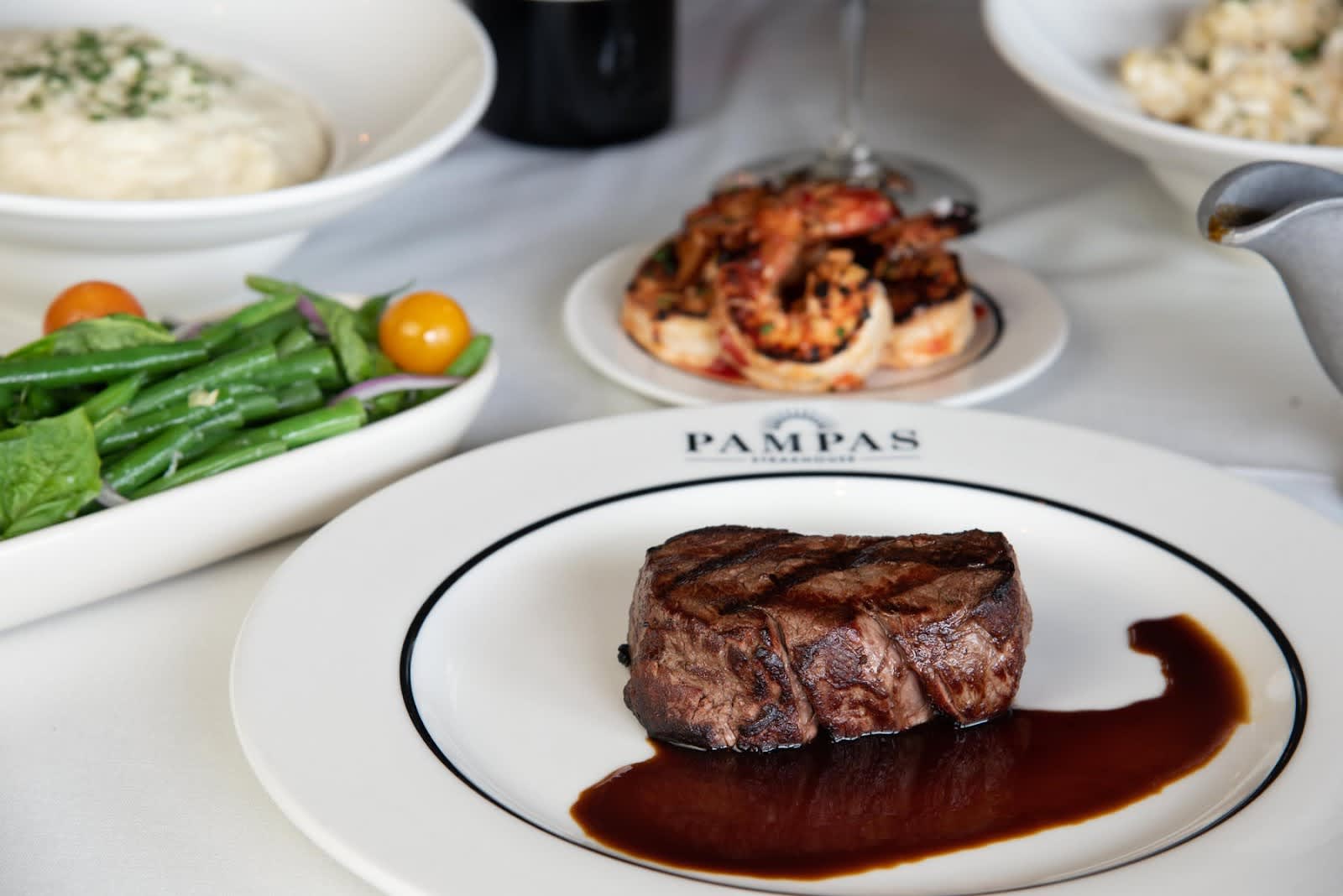 Photo courtesy of Pampas Steakhouse
A chic steakhouse with a Latin twist, Pampas Steakhouse offers a variety of steaks and cocktails in an upscale, inviting atmosphere. Named the #1 steakhouse in Georgia, Pampas features authentic Argentinian cuisine, with steaks cooked over oak, a wood fire grill, and hot coals. This traditional method enhances the flavor of the meat and brings out an incredible, unique aroma as it cooks over the fire. Special cuts include "The Brick" Filet, the Bone-in Filet, Tomahawk, Delmonico, and Churrasco.
The wine list features bottles from all four corners of the world and enhances the culinary experience at Pampas. Guests love the upscale atmosphere and hospitality at Pampas and besides the variety of steaks, popular menu items include blackened Scottish salmon, pan-seared Diver Scallops, and the lobster tortellini with lobster cream sauce.
Pappadeaux Seafood Kitchen
Pappadeaux Seafood Kitchen is one of the largest family-owned and operated restaurant companies in the United States and a respected leader of the restaurant industry for several decades. Pappadeaux's story began in 1897 with the Pappas family who immigrated to the United States from Greece. Since then, the Pappas family has opened dozens of locations around the country with one common theme: exceptional hospitality in a warm and inviting atmosphere. Guests at Pappadeaux enjoy generous portions of Louisiana-style seafood dishes, like giant shrimp and grits and a huge fried seafood platter. You are guaranteed a quality Southern culinary experience when dining at Pappadeaux — but remember to save room for dessert! The Creme Brûlée with fresh berries and whipped cream is a crowd favorite!
Restaurant Holmes
As they say in Alpharetta, "Holmes, sweet Holmes!" Restaurant Holmes offers creative small plates, seasonal American fare, and cocktails on Main Street in downtown Alpharetta. Specializing in bringing the highest-quality ingredients straight to your table, Restaurant Holmes is a local favorite spot to enjoy fresh, healthy meals in a vibrant and fun atmosphere.
Restaurant Holmes meets the needs of every guest. Whether dining with family or experiencing a first date, the staff at Restaurant Holmes goes above and beyond to make each patron feel special. Their inviting atmosphere and beautiful dining spaces encourage guests to linger and mingle with the neighborhood and enjoy the best food and cocktails around! Menu items include tuna poke bowls, pork belly tacos, Mexican street corn, and wood-grilled octopus with an extensive wine, beer, and cocktail list.
Secreto Southern Kitchen & Bar
Serving fresh, Southern cuisine and unmatched hospitality, Secreto Southern Kitchen & Bar is a favorite spot to enjoy hand-crafted cocktails and traditional dishes with a contemporary twist. Appealing to all culinary palates, Secreto's menu offers something for everyone. Fan favorites include the grilled apple-brined pork chop with asparagus and balsamic-glazed bleu cheese butter, coastal shrimp with Havarti cheese grits and caramelized onions, and a melt-in-your-mouth buttermilk-glazed carrot cake with orange cream cheese icing. Each meal is carefully prepared with fresh, local ingredients and served by friendly and upbeat staff in a casual atmosphere.
Village Tavern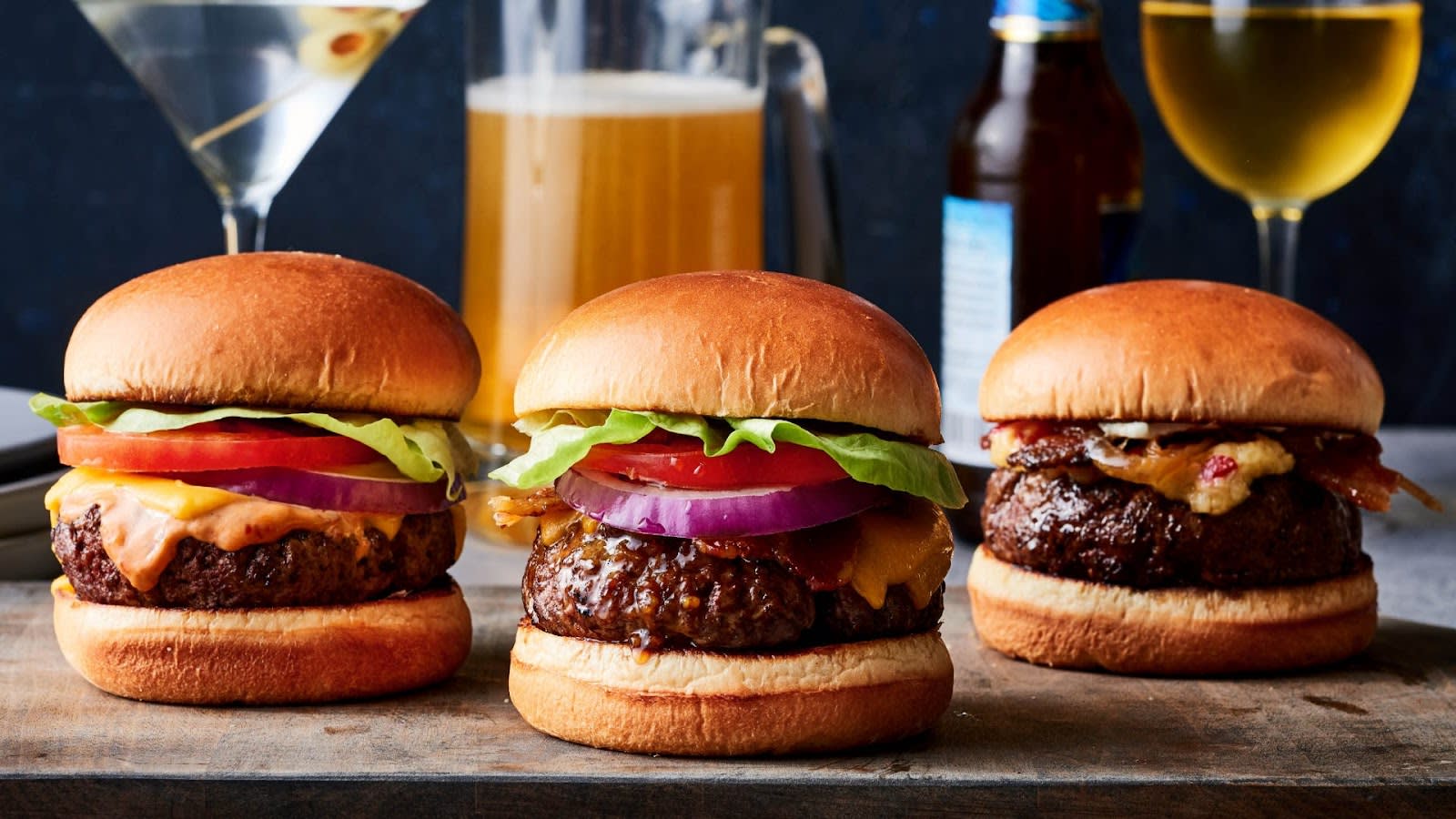 Photo courtesy of Village Tavern
With the original location in Winston-Salem, North Carolina, Village Tavern has expanded its reach to eight locations in the South. Founded with simplicity at its core, Village Tavern offers the finest meals made with fresh ingredients at an affordable price. Chef Mary Grace Viado, a 2001 Culinary Institute of America graduate, has been awarded incredible honors and scholarships from top culinary experts like James Beard and has trained at top New York institutions. A few notables include: Restaurant Daniel, Aquavit, Le Cirque 2000, Aureole, Payard Patisserie and Bistro, Café des Artistes, and Le Bernardin.
With a unique menu and a fierce passion for culinary creations, Chef Mary Grace Viado has certainly put Alpharetta on the culinary map. Village Tavern is an award-winning restaurant serving outstanding lunch, brunch, and dinner options. Favorite dishes include Shanghai flash-fried calamari with pickled jalapenos and ginger-chili, braised meatball skillet with Tuscan tomato sauce and Gruyere cheese, and the All-American tavern burger with Special Sauce.
Can't Forget the Coffee
An Alpharetta favorite destination, Valor Coffee can be found in the historic downtown Alpharetta Square. Valor Coffee offers awesome and unpretentious brews to the community in a hip, friendly space that welcomes creativity, relaxation, and positive vibes. Enjoy seasonal bites from their rotating menu and enjoy new coffee concoctions every week.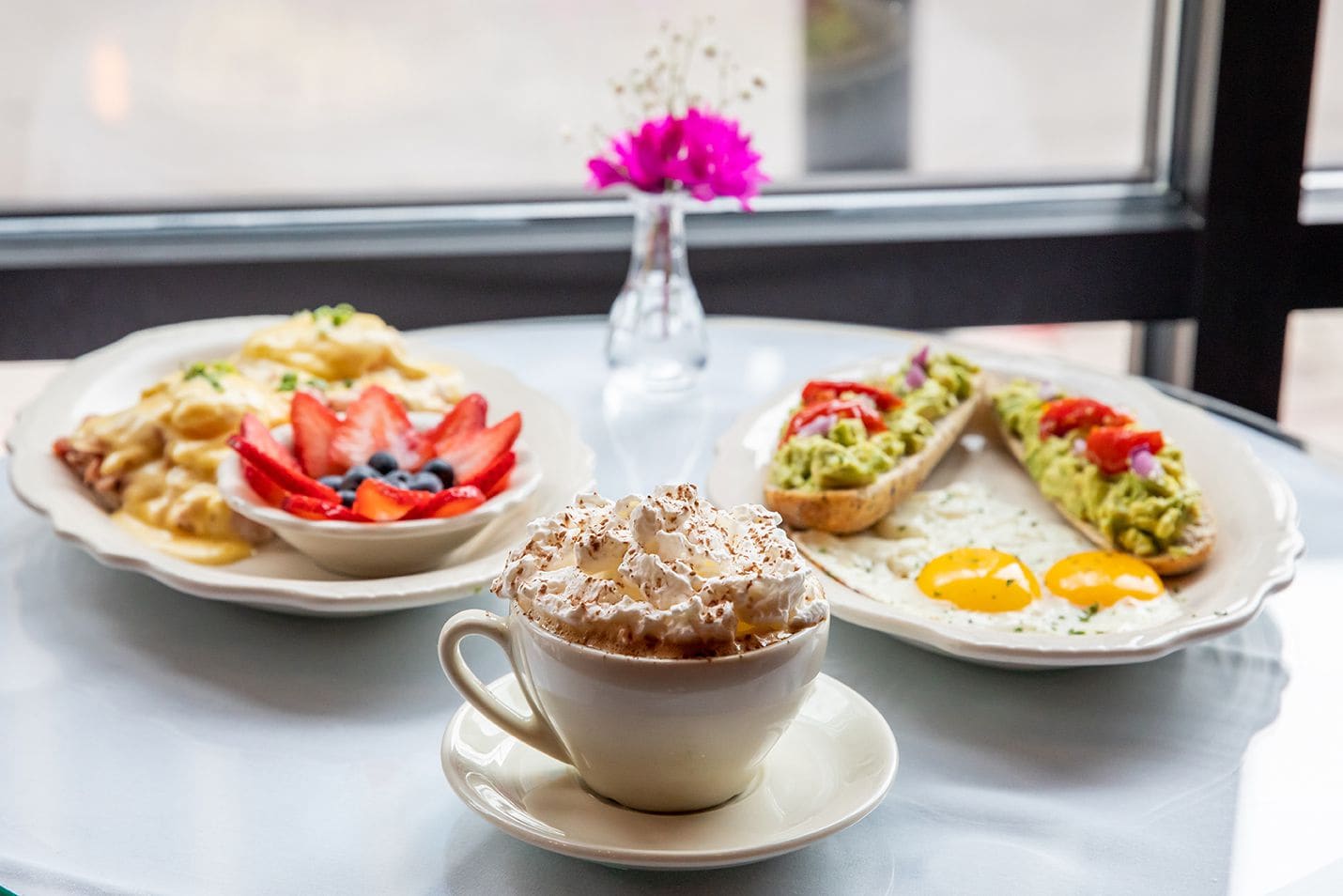 Photo courtesy of

Café

Intermezzo
Another local favorite is Café Intermezzo, an old-fashioned coffeehouse offering incredible coffees, outstanding brunch options, beautiful desserts, and cocktails. Designed with old-fashioned European flair in mind, Café Intermezzo offers an escape from daily life and transports guests to another time in a foreign country, a true "intermezzo" vacation experience.
If this list has your stomach rumbling, consider a new home in Alpharetta, Georgia to experience the exciting culinary scene for yourself! Moving up, moving down, or moving out, Monica Blanco is here to fulfill your real estate needs with a unique and consultative approach. For guidance and insight on all things residential real estate in Alpharetta and the surrounding neighborhoods, contact her today!