From minor updates in your yard, to elaborate place settings inside, updating your home's interior and exterior is a perfect way to celebrate the changing of the seasons. Below are some pointers for staging luxury real estate to greet Autumn.


Exterior spaces
Though you're justified in spending most of your time decorating your home's interior, don't neglect your front yard, patio, or porch. Minor changes can have a significant impact on your home's curb appeal. Consider the following:


Place a fall wreath on your front door for a classic choice. Make it a family project by creating a DIY seeded eucalyptus wreath, or buy one of these simple but elegant wreaths.


Hang a chalkboard sign on your door to welcome guests to your holiday parties or wish trick-or-treaters a happy Halloween.


Purchase a plain doormat and DIY an autumnal welcome mat by painting pumpkins and leaves using stencils.


Keep things vibrant and colorful by bordering windows with hanging paper garlands and placing patio furnishings in contrasting colors on your terrace.

If you prefer a neutral color scheme, add some paper oak leaves glued to branches and hang them above your windows.


Instead of making a trip to your local nursery, collect sprigs of dried flowers in a metal vase to decorate your patio's accent table.


Add some galvanized planters to your porch for a rustic touch.


Apply some liquid gold leaf to pumpkins, using various stencils, to add some glamour to a traditional pumpkin display.


Illuminate your entryway with candleholders made with stout gourds, pumpkins, and glass chimneys.


Add a touch of whimsy to your porch with outdoor fall terrariums. Using materials such as Spanish moss, small pumpkins, and bright leaves. Place them on a shallow terracotta bulb dish under a bell jar to create a charming ornamental piece.


Change out your doormat, and add some adorable garden decor to your outdoor living space. Wayfair has a broad selection of outdoor fall decor pieces to bring in the season.


Interior spaces
Once your yard and patio are staged with perfect seasonal curb appeal, it's time to move to interior decor. There are a multitude of design ideas and tricks you can implement to welcome fall. Utilize an array of techniques to curate a comfortable setting in which you, your family, and your guests will feel the autumnal spirit.


Incorporate earthy colors and patterns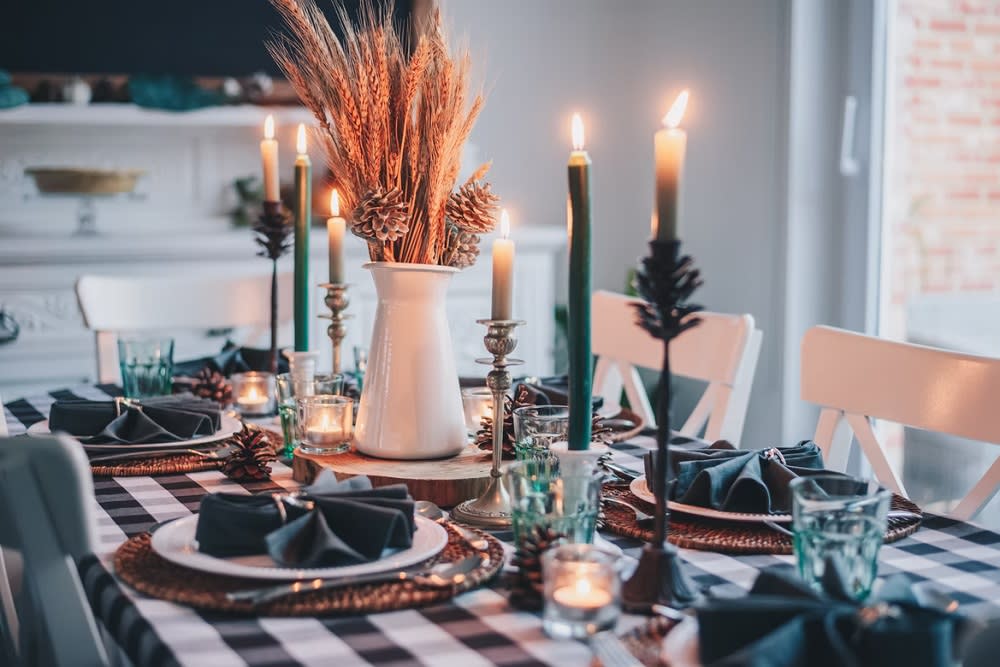 Decorating for autumn is all about incorporating the colors and comfort of the season into your abode. Red, orange, and yellow are common colors that come to mind when thinking of autumn, but designers are increasingly turning to other nature-inspired hues to create festive autumn color combinations. Deeper shades with warm undertones are a great place to start. Here are some additional ways to incorporate earthy colors and patterns:


Deep, rich tones such as forest greens, dark blues, and warm browns add sophistication to a space without overdoing it.


Brick red and burnt orange accent pillows and throw blankets are a great addition to your living room couch or at the foot of your bed.


Switch out your bright summer table runner for a forest green one.


Instead of placing classic orange pumpkins on your porch, opt to paint them in different colors for a playful and inviting display.


Exude fall vibes with cinnamon plaids and stripes or black-and-white plaid with hints of red and brown.


Rose gold is a trendy and elegant hue, while mustard yellow, eggplant, and navy are more soft-spoken choices.


Integrate inviting fabrics
Fall is the season to grab a copy of Ray Bradbury's
October Country
and snuggle up with a warm cup of coffee by a crackling fireplace. You'll need to stock up on cozy throw blankets, plush pillows, and soft furnishings to exude autumn vibes throughout your home.
Swap out lightweight textiles for heftier, more substantial fabrics that bring warmth. Wayfair has a broad selection of comfy throws, blankets, and pillows suitable for fall style and weather. If you're looking for fall bedding sets to keep with the fall theme, Bed Bath & Beyond has fantastic options to choose from.


Ensure guests feel warmly welcomed by placing a cozy rolled blanket in your guest bedroom.


Place two tartan blankets on your backyard/pergola table setting for an inviting seasonal display.


Create a warm atmosphere by layering chunky knitted blankets and decorative pillows with textured fabrics in common areas.


Luxuriously soft and enticing, velvet is the perfect texture for fall ambiance. Velvet pillows should do the trick, but you can take it a step further by acquiring a velvet sofa, armchair, or love seat. Or create a soft, warm space for chilly fall nights with this velvet upholstered panel bed.


Use nature as inspiration

When the leaves on the trees begin to change and the weather gets cooler, it's time to harvest a new season of gorgeous produce. Let this changing landscape and fall bounty inspire your decor throughout the home.


Elevate your fall dinner table setting with grapevine wreath napkin rings and painted pumpkin vases.


Use mini pumpkins/squash with eye-catching colors as centerpieces.


Place a charming fruit basket teeming with cranberries, pears, figs, and other seasonal produce on your kitchen counter or dining table.


Instead of decorating your home interior with pumpkins that you'll need to toss in a few weeks, opt for decorative and glass pumpkins that will last for years to come.


Add intrigue and visual interest with candle holders of varying heights.


Include nature-inspired trinkets, including centerpieces, napkin rings, vase fillers, and candleholders. Check out Wayfair for a large selection.


Refresh the bathroom
Though most of your efforts will be focused on decorating your home's exterior, dining room, living room, and kitchen, dedicate some time to decorating your bathroom, too.

Your bathroom is an intimate area of your house that deserves attention, as guests will inevitably use it while visiting. There are plenty of accessories, color schemes, and minor additions that will maintain an autumn theme. Just a few changes will create a significant seasonal impact.


Change out your shower curtain for this adorable apple orchard shower curtain or weeping flower design. Wayfair has several fall-inspired shower curtains to choose from.


Decorate your bathroom window with this decorative leaf window valance.


This four-piece mason jar bathroom accessories set will add to the fall theme you're creating.


Bring the outdoors in by placing seasonal flowers in small bud vases. Fresh blooms brighten up your bathroom, regardless of the season.


Change your toilet bowl cover, bath mat, and contour mat to a royal blue, burgundy, burnt orange, or eggplant set. Choose an absorbent velvet bathroom mat to match other velvet upholstered pieces in your home.


Fall bathroom towels with pumpkins and stars are cute for children's restrooms, while adults will prefer cotton towels of one or two rich, earth tones.


Use small gourds for tea candle holders, or buy some fall bathroom candleholders if you're not much of a DIY person.


Use a pumpkin spice reed diffuser set to keep your bathroom smelling delicious.


When in doubt, browse the fall bathroom decor offerings of Bed Bath & Beyond or Amazon to buy pieces or gain inspiration.
Looking to explore the world of Alpharetta real estate this fall?
Contact Monica Blanco
today for all your Metro Atlanta real estate needs!

*Header image credit: Better Homes & Gardens