There's no denying Milton, Georgia, is one of the state's most sought-after areas to call home. Nestled in the northern tip of Fulton County, this rural city of more than 40,000 residents has long been a destination for affluent homebuyers seeking a quiet, private, and luxurious way of life.

Milton is full of impressive real estate. Fully embracing its rural roots, the city is a collection of rustic country roads and home lots that run from a one-acre minimum to estates of ten acres or more – ideal for accommodating the favorite Milton pastime of equestrian pursuits.

However, no matter how opulent and thoughtfully appointed your Milton home might be, there's always room for luxury upgrades. This investment in your home will positively affect your ROI as the Milton luxury real estate market is full of quality-discerning buyers. The more spectacular a home and its collection of amenities, the higher the bids it will attract when it comes time to sell. Make bold decisions and commission exciting renovations. Elevate the residential experience of your property and its respective value.

With this outlook in mind, let's explore a few of these modifications you can make to transform your home.
Comfort-driven splurges
Luxury housing is often a proving ground for new technologies. In its early incarnations roughly a decade ago, home automation and comfort-driven technology were expensive and unproven. But now, smart appliances and amenities have evolved at a breakneck pace. Many of the best and
most thoughtful technology-based improvements
are becoming commonplace in luxury homes like Milton.
There's the standard whole-home wifi, intelligent locks, and security cameras, but we're pushing the envelope even further. Technological advancements shouldn't just be for practicalities - we can leverage these developments to enhance a home's livability and sense of luxury.
For instance, installing
smart blinds
serve the dual purpose of making your home more comfortable and reducing the heating and cooling costs. High tech automation allows you to control the motorized window shades via a preset schedule or smartphone and tablet-based apps. Maximize the tech by setting your system to follow the sun, allowing the home to always receive the perfect amount of natural light at any time of day.
Another upgrade worth considering addresses the fact that large homes often feature spacious master baths. Even in Georgia, where it's warm more often than not, the morning bathroom floor can often be uncomfortably cool. How you start your morning sets the tone for your whole day, and heated flooring can deliver an outsized positive impact on your quality of life. This feature can be automated like the blinds and have the potential not only to keep you comfy but, by ambiently heating the room, lead to reduced energy costs thanks to lower thermostat settings.
Specialty rooms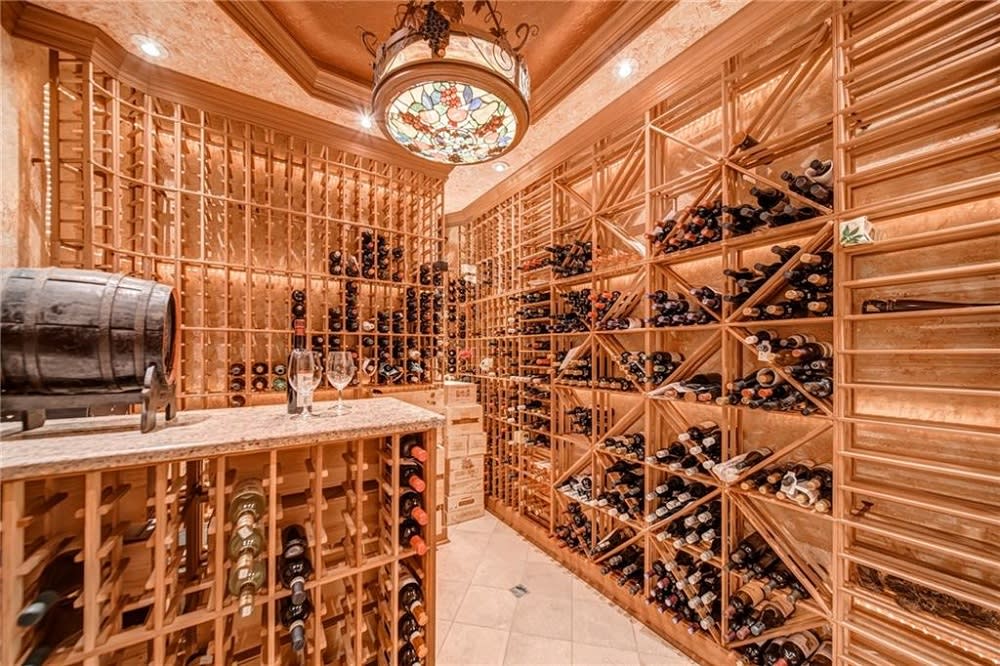 Perhaps one of Milton's most underappreciated aspects of luxury housing is its flexibility. Most single-family homes fall within the 5,000 to 7,500 square foot range, while the most spectacular will top out above 10,000 square feet on expansive, multi-acre plots.

In most cases, this translates into five to seven bedrooms, an office, a den, additional sitting areas, and bonus spaces throughout the property. Depending on needs and family size, this can be a lot of space and, more often than not, leaves a room or two completely underutilized.

Instead of allowing those spaces to waste, transform them into a highly desirable specialty space. Popular ideas include a customized theater room or a climate-controlled wine cellar and tasting room. Other homeowners who embrace an active lifestyle opt for a fully outfitted fitness room to allow private workouts instead of public gym memberships.

We're not simply talking about throwing up a big screen tv, installing a few wine racks, or replacing a spare bed with a treadmill and rowing machine. Think extensive, and consider renovating an entire room. By integrating the necessary elements into the unused space, you'll provide yourself and your family a permanent room to enjoy favorite pastimes. However, this type of approach doesn't have to be limited to creating a space for a specific hobby.

If two or more individuals are working from home, a forgotten den might be ready to transform into a second home office. Is there an upstairs living area used as a catch-all? It could be time to create the playroom your growing family needs. Even a collection of extra bedrooms would make the ideal mother-in-law suite. Simply put, don't let extra space go to waste.
A chef-style kitchen
Aside from sleeping in our bedrooms, we spend the most time in the kitchen. In the morning, it's our first stop after waking up, and we meander in and out of it throughout the day to drop things on the counter, make a snack, prepare a meal, or discuss the day's events with another family member. At night, it's often our last stop before we retire to our bedrooms. When entertaining, the kitchen becomes the center of activity before, during, and after the party.
There's a reason why it's often referred to as the "heartbeat of the home." If you upgrade your kitchen, you will be effectively upgrading your entire house.
Luxury homes in Milton provide homeowners with an excellent head start, but while your cabinets and counters might be top of the line, do your appliances meet the same standard? Is your stock sink a little out of place with the custom finish-outs? After serving your home for five, ten, or fifteen years, are your walls and flooring a bit dated?
Whatever the case, kitchen design trends, technology, and your own individual needs are constantly evolving. The single most influential upgrade you can incorporate into your kitchen is to
install smart appliances
, which maximize convenience and cost savings. A smart refrigerator is a notable option, as it can update you on grocery levels and even allow you to order more items via a touch screen. You can easily control smart stoves and smart ovens remotely to reduce cooking time and increase safety. Popular countertop appliances like smart coffee makers and air fryers can simplify your morning routine and allow for healthier eating respectfully.
Another upgrade option to consider which can quickly bring the kitchen's aesthetic to another level is adding a backsplash.
Backsplashes
are a vertical extension of the counter and help protect the wall from water damage. They can be a few inches in height or extend to the ceiling and offer exciting styling options. Unfinished tin tiles with imprinted designs can cultivate a distinctive vintage look, while polished quartz can create a luxurious atmosphere.
Resort-style amenities
Earlier, we added radiant heating to your master bathroom floors. However, think about going the extra mile to create a space akin to the bathrooms featured in luxury hotels. Large, walk-in showers with rainfall showerheads and whole body spray instantly easily give your bathroom that pampering feel. Stylish above counter sinks and faucets with unique flow patterns also recreate the high-end hotel experience.

Don't skimp on high-end fixtures and features, either. Well-lit but dimmable smart mirrors are increasing in popularity, particularly those with a heated back to eliminate a foggy surface after a hot shower. If you're considering a total renovation, floating vanities, upgrading smart lighting, water-efficient toilets, and thoughtfully considered tiling and backsplash all lend themselves to crafting a master bathroom competitive with those at five-star resorts.

As for tubs, everyone has an opinion on whether their popularity has faded or if they still curry favor with luxury homeowners. Regardless, it's lavish to have one when the moment arises - specifically an oversized soaking with clean lines which compliment your resort-style motif. After a long day in your home office or an intense workout in your converted gym, you'll be thankful it's there.
A stunning outdoor space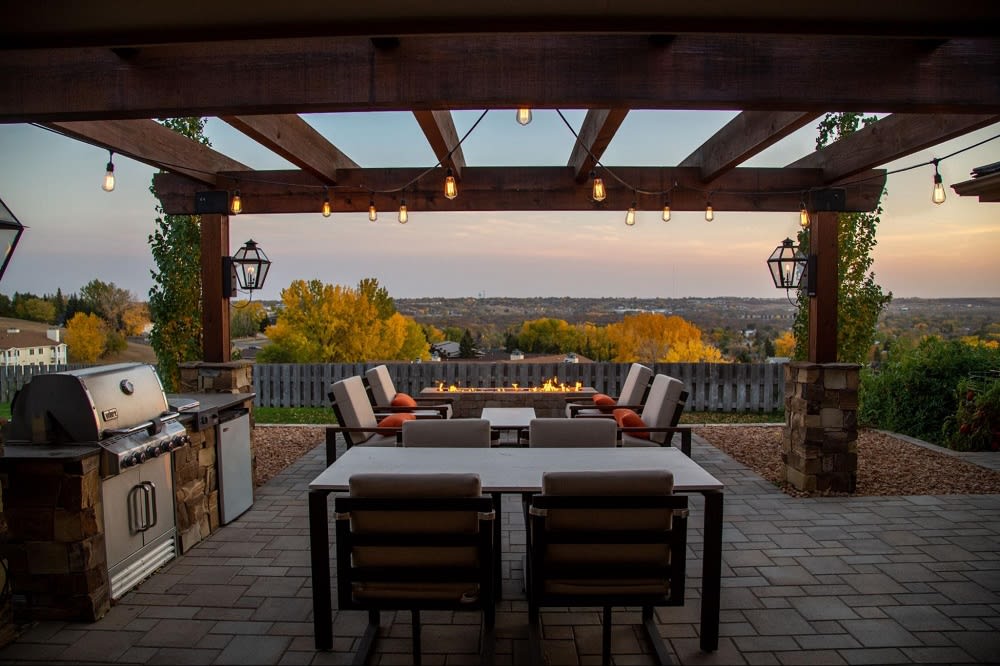 If there's one revelation homeowners learned in the recent pandemic, it's that you can never have too much space. It also demonstrated just how essential outdoor living areas are to our enjoyment of the home. Many luxury homeowners discovered how woefully inadequate their outdoor living areas were during this time. If you found yourself in this position, there's no better time than now to build an outdoor kitchen, sitting area, and entertainment space that essentially serves as an extension of your home.
Even if you have a desirable patio and backyard area, it's worth upgrading elements that may not have been up to par. For example, popular pieces such as grills, fire pits, and tables and chairs for expanded seating are easy to upgrade as needs or trends change. Perhaps your space isn't fully built out and requires additional counter space, a sink, an outdoor refrigerator, and extra built-in seating.
Looking beyond the patio, is your pool area too small or drab? Or perhaps you don't have one, and it's time to take the plunge. Sports courts are also growing in popularity. With extra space in abundance in Milton, an active family could make excellent use of additional outdoor recreational areas.
The key is to plan the area to fit your lifestyle. Do you entertain, welcome over a big extended family, or enjoy spending time outdoors? Design to your needs now and leave a little room to upgrade should things change in the future.
Whether you're seeking to buy Milton luxury real estate or the time is right to list your property on the market, please don't hesitate to contact
Monica Blanco today
.
Recognized as one of the Atlanta Realtors Association's top individual agents, Monica is ready to guide you through every step of your real estate transaction. From Alpharetta to Buckhead, Milton, and beyond, Monica's years of experience, knowledge, and expertise will ensure your home search or selling your property will be a success.